News on our latest Glamour Illusions Offerings In the Store
Please remember to make a purchase from the store you must first REGISTER for FREE as a new user. Subsequent visits to make purchases from the store will also require you to login with your registered Username and Password via the stores HOME page.
Current News
Saturday 1st June 2019 - NEW ! Rebecca Bikini Zig Zag Lady illusion Photo Set in XMP Photography section of the store.
Welcoming back the lovely Rebecca to Glamour illusions, she is keen to be reacquainted with the Zig Zag lady illusion.
The long haired brunette showing off her tanned slim figure wearing a aqua blue bikini enters the cabinet barefooted. With the blades quickly inserted into the cabinet Rebecca is swiftly divided into three pieces.
See if her lovely magical figure is returned back to one piece in this high definition photo set .
Contains 85, High Resolution .JPG images. in a 217mb zip file download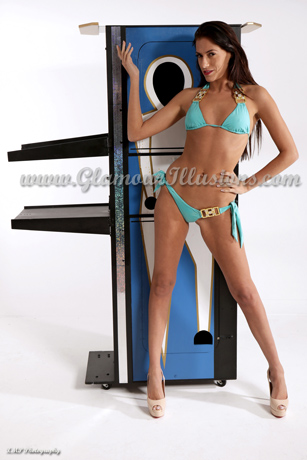 Friday 8th February 2019 - NEW ! Keira Bowsawing Sawing in Half illusion Photo Set in XMP Photography section of the store.
Very excited to be sawed in half now, Keira Lavelle is once again upon the stage. She is already partially undresed as she inspects the Bowsaw illusion. Of course our mysterious magician Dresden insists his willing assistant must go under the saw blade wearing as liitle as possible.
Keenly taking on the challenge, Keira discards her shirt then the black bra, panties and heels ending up on the operating table in nothing but her black stockings and garter belt.
With the saw guide locked around her waist the pretty blonde is ready to endure the cold steel as the bowsaw blade rips down through her bare midriff!.
See how Keira gets on in this mega bumper edition photo set.
Images are in glorious ultra high definition
Contains 219, High Resolution .JPG images. in a 520mb zip file download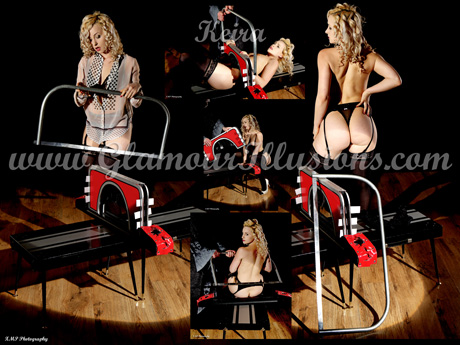 Saturday 26th January 2019 - NEW ! Angie Rubio Thinbox Sawing in Half and Cube Zag illusions Photo Set in Evgulick Photography section of the store.
In this solo photo set Angie Rubio wears a micro bikini to take on the Thinbox sawing in Half illusion and then cosplay's as Batgirl in the Cube Zag illusion
Images are in glorious extra high definition.
Contains 95, 4500 pixel resolution high quality .JPG images. in a 1000mb (1.0gb) zip file download.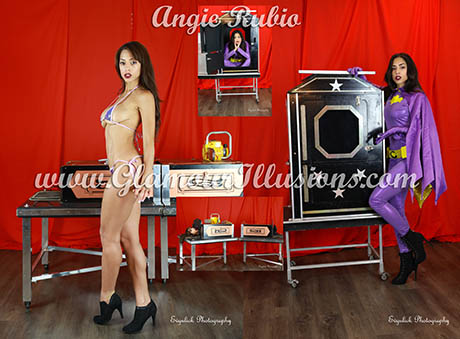 Wednesday 23rd January 2019 - NEW ! Keira Thinbox Sawing in Half illusion Photo Set in XMP Photography section of the store.
Mysterious Magician Dresden invites the lovely curly blonde haired Keira Lavelle upon the stage to be sawed in half!. But first she must undress in preparation to go in the sawing box
Under the magician's hypnotic spell Keira begins to remove her shimmering metallic dress. When she is down to her lingerie she cant resist playing with the large crosscut saw before continuing to undress until she is left standing with just a pair of glossy tan (tights) pantyhose covering her modesty. Soon finds herself laying enclosed in the thin sawing box, the Magician begins the magical task of sawing and dividing Keira in half!
When the magician is ready to restore her, Keira jumps out of the box, there is no doubting her body is fully restored to one piece and that she is completely unharmed by her illusionary experience.
Images are in glorious ultra high definition
Contains 158, 5472 pixels High Resolution .JPG images. in a 400mb zip file download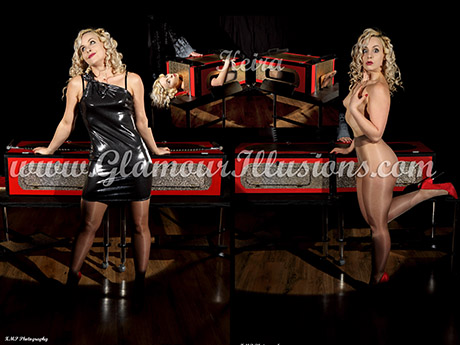 Click on tabs below to open and close Archived News items