News on our latest Glamour Illusions Offerings In the Store
Please remember to make a purchase from the store you must first REGISTER for FREE as a new user. Subsequent visits to make purchases from the store will also require you to login with your registered Username and Password via the stores HOME page.
Current News
Friday 26th March 2021 - Re-Release ! XMP06 Becky illusion (Re-edit) Photo Set in the Glamour illusiions XMP Photography section of the store.
XMP assistant Becky has a go at a number of illusions. Thinbox Sawing in half, Electric Jigsawing in half, Zig Zag lady, Head & Leg Chopper.
Note: This is a re-edited improved release of the original files from 2002.
Images are in 1600x1200 pixels resolution
Contains 221 .JPG images. in a 211mb zip file download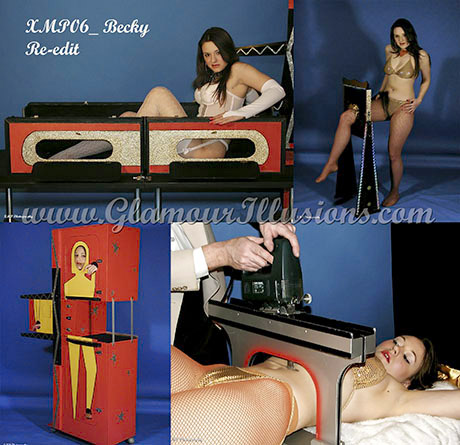 Click on tabs below to open and close Archived News items