News on our latest Glamour Illusions Offerings In the Store
Please remember to make a purchase from the store you must first REGISTER for FREE as a new user. Subsequent visits to make purchases from the store will also require you to login with your registered Username and Password via the stores HOME page.
Current News
Saturday 28th July 2018 - NEW ! Lita-Rose Electric Jigsawing through illusion Photo Set in XMP Photography section of the store.
Lita-Rose was on her way out when our magician persuaded her to stay a while longer and inspect a curious piece of apparatus with with a low bench, frame and electric saw. Innocently she asked the fateful question "what are these for?" to which she got the inevitable reply "Sawing you in half my dear! Let me give you a demonstration. But first I must hypnotize you"
Under the magician's spell; Lita-Rose obeyed his commands as she disrobed to her pretty red bra, panties and black fishnet stockings before laying upon the bench. Manacled by her wrists and ankles, The electric saw inserted into the guide frame and powered up. Lita-Rose's bared slim waistline would soon be acquainted with the cold steel of the saw's razor sharp blade!
Images are in glorious ultra high 20 megapixels definition
Contains 133, 5472 pixels High Resolution .JPG images. in a 646mb zip file download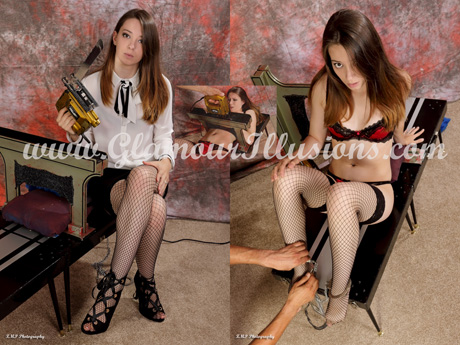 Thursday 19th July 2018 - NEW ! Lita-Rose Zig Zag Lady illusion Photo Set in XMP Photography section of the store.
Glamour illusions warmly welcomes Lita-Rose. Her first time as Magician's assistant sees her dressing in a silver leotard and glossy dark tan tights as she gets ready to enter the Zig Zag lady cabinet where she will be divided into three and have her midriff moved to one side.
Images are in glorious ultra high 20 megapixels definition
Contains 115, 5472 pixels High Resolution .JPG images. in a 279mb zip file download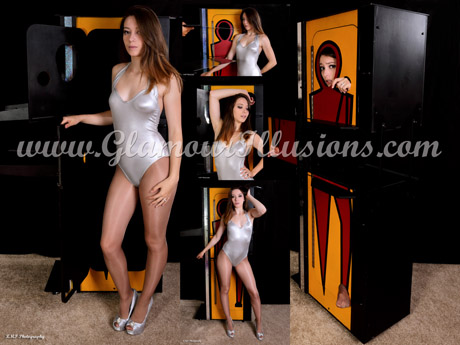 Click on tabs below to open and close Archived News items